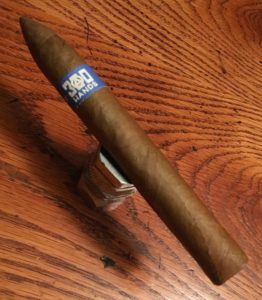 Wednesday evening I finally got around to trying the Southern Draw 300 Hands Connecticut in the Piramides size. This is a 6 1/8″ x 52 figurado, a classic size, with a US grown Connecticut shade wrapper, a Peruvian binder and Dominican and Nicaraguan fillers. Like all Southern Draw cigars it's made at the AJ Fernandez Factory in Nicaragua. The wrapper is on the darker side for a Connecticut shade, and I found the flavor to be less grassy than most cigars in that genre. It smoked very well and was a very enjoyable cigar, well priced, with proceeds going to help less fortunate people in Nicaragua.

Thursday I stopped into the Downingtown CigarCigars shop to see Kevin, the manager there, looking for some "white" cigars for this coming Thursday's Diner en Blanc. While I didn't really find anything there, I did pick up some new cigars to try, including the Tatuaje Mexican Experiment and ME II in the Churchill sizes. I got a few others that will come up later as I get around to smoking them, and there was a E.P. Carillo event there which I hung around for the start of. Ali is the new EPC rep, and I've known here for quite a few years. I enjoyed a Seleccion Oscuro robusto there while talking with Kevin, which is one of my favorites in the EPC line. You know what I found really interesting about the Tatuaje Mexican Experiment and ME II? They are priced at $10 (in no cigar tax PA) for any size. The box pressed 6½" x 48 Churchill seemed like the logical choice to me, so I picked up one in each blend. I started with the Mexican Experiment, of course, it would be insane to

smoke the II first. There's not much blend information about the to cigars, they have a Mexican San Andrés wrapper over Nicaraguan binder and fillers, and are made at the My Father factory in Nicaragua. Honestly, I'd have to smoke these side by side to really be able to say what the difference is, perhaps the ME II was a bit more spicy than the Mexican Experiment. Both cigar were solidly in my wheelhouse, loaded with lush, heavy tobacco flavors with dark chocolate and espresso. I smoked these fresh from the store, for the most part, I should probably grab a few more to leave in the humidor for a year to see how they age, I suspect they would be spectacular, or more so, having spent some time resting. I got my start smoking Mexican cigars back in the 90s, my father-in-law turned me on to Te-Amos and I found the maduros to be to my liking and I smoked a bunch of them. My first box buy was a box of toros, and I used to buy the Te-Amo segundos by the bundle. At the time Mexican cigars were not exactly considered the cream of the crop, I guess I was ahead of the curve! There is a difference between a blend and a puro, and all Mexican tobacco might be overwhelming, I get that. Certainly these two Tatuaje cigars are great for my palate, and I really enjoyed the Churchill size. The other three sizes offered (Robusto (5" x 54),Toro (5 ¾" x 50) and Belicoso (5" x 52)) are actually pretty close together, made it hard to make a selection.
Off to work another Sunday, until the next time,
CigarCraig