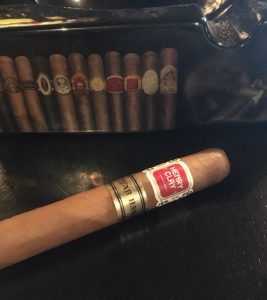 I had a visit to Goose's shop in Limerick this week as my wife had a meeting with Goose to work on a super secret project, so I picked up a few cigars while there, and smoke the new addition to the Henry Clay line, the War Hawk. I've been looking forward to trying this new addition to a line I've long been fond of, going back to the days when they were ugly things. I really like the Stalk Cut, despite the silliness of the name (all the Connecticut Broadleaf and Habano tobacco in stalk cut anyway, so it's really no big deal), it's a poor man's Henry Clay Tattoo, which is a spectacular cigar. The cigar is beautiful, with an Ecuador Connecticut Shade wrapper, Broadleaf binder and Honduran fillers, made at Altadis' Flor de Copan factory in Honduras (which is for sale, by the way, a few billion and it could be yours). I really liked this cigar for what it was, as it bore no resemblance, in my opinion, to a Henry Clay that I could think of. It stood on it's own as a really great tasting cigar with a nice nutty flavor with balanced nicely with the sweetness of the broadleaf binder and the earthiness of the Honduran fillers and was, overall, a really enjoyable medium bodied cigar!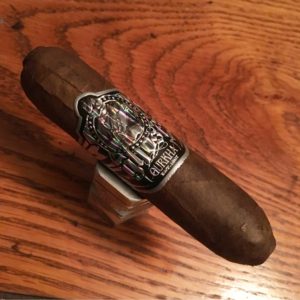 A few months ago I was headed to the airport to pick up my son and stopped in Jacoub's Cigars in Ridley Park, which is only about four miles from PHL. I didn't have time for a cigar, but I bought a few, and one of the ones that caught my eye was a short, fat Gurkha Ghost perfecto. This cigar was about 4″ x 60, I guess, I neither took the time to note the size or name of the cigar when I bought it, and the little bit of research I did when I decided to smoke it turned up no information. To be honest, I didn't look that hard. People tend to crap all over the Gurkha brand, I know they have a bunch of bundle-esque stuff in the catalogue market and they hype a lot of stuff too much, but there are a bunch of cigars in their portfolio that are worthy of mention, and the Ghost, to me, at least, is one of them. I got a late start and was looking for a shorter smoke, and this short perfecto was about what I needed. It's just about the same size and shape of a Flying Pig, with a Brazilian, Arapiraca Maduro wrapper, Criollo '98 binder and Dominican and Nicaraguan fillers. It looks like they call this vitola the "Spook", I just did a little more research. Anyway, it's made in a major factory, Placencia or someone like that, and it burns well, has a great flavor and I was satisfied by the experience. Ghost, most of the Cellar Reserves and Seduction are all Gurkha cigars I enjoy.

While at Goose's, Alex Kraft, the local Rocky Patel rep, happened to stop in with Dave Bullock, the VP of sales who was traveling with him. I had not met Dave before, and hadn't seen Alex in some time, so it was nice to get aquatinted. Somehow or other a rather large Hamlet Liberation found its way into my pocket, Goose had something to do with it. This is a 6 ½ x 55 large toro with a tapered head and a shaggy foot. A very interesting looking cigar. I lit the unfinished foot and expected the flavor to change once it started burning the Habano wrapper, but, sadly, I never really noticed a difference. It was a good cigar, well behaved, and certainly good for about 2 hours of smoking time. there was never a real "wow" moment, but it was a solid, good tasting cigar. It has some spice and woody flavors and is and all-around good cigar. I enjoyed the size and shape of the cigar, the classic Cuban "109" style head is unique and interesting,

My last cigar to talk about today is the new Cohiba Connecticut. This cigar hit the shelves in March, and was a late addition to my sample humidor, but a welcomed one. I certainly don't mind sampling new cigars, but I rarely (read: never) will splurge on a $20 cigar, and this starts at $19.99 for the Robusto, which is the vitola which was generously supplied to me by General Cigar Co. It's 5½" x 50, which is a nice size, and has an Ecuador Connecticut wrapper which is grown by an independent grower in the Los Rios Province in Ecuador. It has Brazilian Mata Fina, Dominican Piloto Cubana and Nicaraguan Jalapa in the filler blend, and,not unlike the classic Macanudo, it has a San Andrés binder. It got me thinking that I might have to revisit what I consider a miss in the Cohiba portfolio, the Blue, the OSA wrapped "budget" priced Cohiba, just to see if that's gotten any better over time. This Connecticut was a good Connecticut cigar. It was on the high side of mild, with good flavor, some sweet notes to balance the bitterness of the shade leaf, and an over-all nice smoke. I kind of forgot I was smoking a high-end, luxury cigar for a while there as the burn was a bit funky. At this level, I rather expect perfection in the burn and draw, and the burn was wavy and required some correction. I expect a certain aesthetic, that I certainly forgive in a lower priced cigar. I seem to remember having the same complaint with the much more expensive Septre. Obviously, this is targeting a certain niche market, and I may not fit into that niche, but it's a good smoke, if you have a chance to smoke one, don't be afraid of being disappointed!
OK, that's enough for today, time to get moving. Happy Memorial Day to everyone. I'll be working tomorrow, although I was lucky enough to have a rare weekend off. Remember why we celebrate. Enjoy some good cigars while remembering those who gave their lives so that you can enjoy yours. Also remember those family members who lost loved ones, they sacrificed too. Until the next time,
CigarCraig