I took a little trip down memory lane this week, and smoked some interesting cigars. I did smoke some newer cigars, the Brick House Corona Larga was very nice (I'll get to that another time) and I smoked another Norteño Toro which is the one cigar from the Herrera Esteli line that I really love. I also threw in a Cornelius toro for kicks. I spent my day off working on a huge building project in the backyard and felt a reward was in order, Listen to the current Retrohale podcast episode to see what those guys thought of one of my favorite cigars, Anyway, lets see what I thought of some of the older cigars I smoked this week.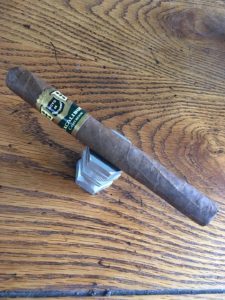 About five months ago I was given a very well aged Hoyo de Monterrey Excalibur Cameroon in the King Arthur size, which is a lonsdale (although they call it a corona, it's a 6.25 x 45, so I guess it's neither). Back around 2000 or thereabouts, General Cigar did one of their promotional taste test samplings where they sold a three pack and consumers voted on their favorite of the three, the winner became the Excalibur Cameroon, and there was much rejoicing. Rami, our local General sales professional here in PA, produced a box of these from his locker at an event I happened to be attending and gifted me one, and I decided with the weather getting nicer it was time to smoke this rare gem. Age was kind to this cigar, it held up nicely. Excaliburs used to be a staple cigar for me, back when a $5 Excalibur No.1 was an expensive treat, and the Maduros were quite the treat. I haven't smoked one in many years, I might need to grab a few. It still had some of the delicate Cameroon sweet, nutty flavor, Camerooniness, if you will, that unmistakable flavor. Burn and draw were perfect and it was quite a joy to smoke. I believe these are still available, and reasonably priced.
There was a lot of news this week that I failed to post about, Altadis marketing Montecristo Minis, Placensia and Davidoff partnering on a cigar, and Fratello releasing a beer line, I missed out on those stories, but my colleagues in cigar media all reported on those stories. The one that was the most surreal was the purchase of a majority interest in Lars Tetens Cigars by Alec Bradley CigarsAlec Bradley Cigars. For those who may not know, Lars Tetens preceded Acid Cigars in the infused cigar market in the mid 90s, they were the first real counter-culture, herbal/botanical infused cigars, and were quite the rage for a while. They've continued to be available here and there, I had the opportunity to meet Lars at an event in 2015 as he lives, or spends a lot of time, in the Lehigh Valley region of Pennsylvania.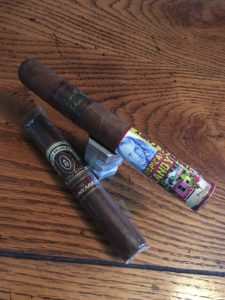 At least until recently, his cigars could be found on several local retailers shelves. He gave me a sampler when we met, and I smoked one soon after, but left several of the more infused smelling examples safely ensconced in a ziplock in the bowels of the humidor until this week when I screwed up the courage to smoke another one. I selected a toro sized cigar called the Tropical Candy, with an Alec Bradley Lineage nearby as an emergency back up, Surprisingly, the cigar wasn't bad, I finished it. Any infusion must have aged out, as it just tasted like a nice, sweet tobacco, and the burn and draw were fine, although it was a bit loosely packed. I was pleasantly surprised, no hallucinations, no weird dreams, no urge to skateboard or anything, Maybe I was a little let down! I kinda understand the acquisition from a FDA predicate standpoint, as these blends certainly go back to the 1990s. I'll be very interested to see what Alec Bradley does with the line.

Of course, I had to follow up with an actual Alec Bradley cigar, but instead of the Lineage, I went with an old favorite, the Nica Puro. I got home from work late last night and grabbed a robusto from the humidor, and saw the Nica Puro (I misplaced the Lineage…), and I love the Nica Puro! I haven't smoked one in a while and I knew it would hit the spot. I do believe this cigar is my favorite cigar Alec Bradley produces, although I have an affinity for several others. This one has a balance of strength and flavor that hits me right. It's one of those cigars that seems to burn right every time, with a nice straight burn, flat ember, I forgot how much I really like this cigar. There's a bit of spice, some dark espresso, just damned good tobacco. I always like to have these in the humidor. I like the Robusto in this line, but the Diamond Rough Cut is pretty good too.
That's about all I have for today. I have to work a rare Sunday, so it's off to work for me. Until the next time,
CigarCraig