Let's see, what do I want to talk about today? I've been stuck working weekends and evenings a lot, so I've been kind of slacking on smoking the newer stuff, plus i don't have a great many new cigars to smoke around. Earlier this week I reeved a news release from Villiger Cigars that I wanted to share, but I had just posted the contest on Wednesday, and wanted to leave it front and center for as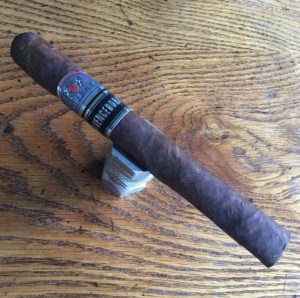 long as possible. So I figured I'd enjoy a Villiger cigar Friday evening, and selected a La Vencedora Churchill since the only La Flor de Ynclans I had were the mis-named Lancero, and I couldn't find them! I wanted a longer smoke anyway, and I enjoy the Joya de Nicaragua made La Vencedora. La Vencedora is a Nicaraguan Puro with a Habana Oscuro wrapper and Nicaraguan binder and fillers. The Churchill is Americanized in size, it's 7″ x 50, which is OK by me, it's like a toro, only an inch better. It's a medium-plus cigar, with some dark sweetness and some spice. Here's the News about the new La Flor de Ynclan:
VILLIGER CIGARS TO PRESENT THE VILLIGER LA FLOR DE YNCLAN IN NEW TORO SIZE

The Villiger La Flor de Ynclan Toro will come in an elegant 10 count box

Villiger Cigars announces that the Villiger La Flor de Ynclan will be presented in a new Toro 6X52 size. The Villiger La Flor De Ynclan robusto in 2017 garnered a 93 rating, ranked as the number 10 cigar in the world by Cigar Aficionado Magazine and voted the 2017 number 6 cigar in the world byTobacco Business Magazine.

The medium- bodied Villiger La Flor de Ynclan was described in Cigar Aficionado Magazine during their unveiling of the best cigars in the world in these words: "The cigar is a fantastic smoke, sweet and charming from first puff to last, anchored by simple-yet-pleasing notes of chocolate and salt, and then refined by more precise intonations of walnut and orange marmalade. "

Heinrich Villiger and Master Blender Matias Maragoto once again came together to tweak the Villiger La Flor De Ynclan. Feeling that the blend could once again be improved on, the Toro 6X52 was agreed upon.

Chairman of the Board Heinrich Villiger said, "The Villiger La Flor de Ynclan seems to be a blend that we keep going back to. Over ten Years ago Matias Maragoto and I began on this journey to create a blend that would pay homage to the Pre-Revolutionary style of Cuban cigars. Although, the brand has received many important accolades, I still felt that the blend can be an even better version of itself. We expect the Villiger La Flor de Ynclan in this new Toro size to be an upgrade from the already highly rated robusto vitola.

The Villiger La Flor de Ynclan in Toro 6X52 Toro size will come in elegantly packaged 10 count boxes.

MSRP: $13.00

About the Villiger La Flor de Ynclan: Diligently crafted by Heinrich Villiger and master blender Jose Matias Maragoto of ABAM Cigar Factory in the Dominican Republic, the Villiger La Flor de Ynclan was a cigar 10 years in the making. Villiger Cigars produced a small batch of La Flor De Ynclan over a decade ago. Unsatisfied with the result; the decision was made to cease production. The tobacco was set aside and aged, while Matias meticulously tweaked the amount of the Indonesian, Dominican, and Nicaraguan tobacco within its Ecuadorian wrapper. Present day, the La Flor De Ynclan is what both imagined it could be. The result was a smashing success as it received numerous accolades after its re-launch in 2017. The highlight being a 93 rating and being named the 2017 number 10 cigar in world by Cigar Aficionado Magazine.

ABOUT VILLIGER SONS LIMITED AND VILLIGER NORTH AMERICA:
Villiger Sons Limited was established in 1888 by Jean Villiger in the small town of Pfeffikon, Switzerland, where Villiger remains headquartered to this day. The company manufactures and sells more than 1.5 billion cigars annually, world-wide. Today, under the leadership of Heinrich Villiger, the company prides itself in its commitment to quality, in all their products made in many countries around the globe.

Follow the Villiger Cigars on social @VilligerCigar #TheOriginalClassic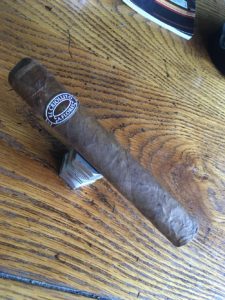 I smoked a few more cigars from PDR Cigars this week too. One of the cigars that I had been looking forward to smoking was the 6″ x 60 DBL Magnum size of the El Criollito. Now, I have historically not had a great appreciation for Criollo 98 tobacco in a lot of cases. so I always am curious to see if a cigar will change my mind. This cigar does have a rosado colored Criollo 98 wrapper, as well as Dominican and Nicaraguan Criollo 98 fillers, with a Mexican San Andrès binder. Maybe I hoped the binder would turn the tide for me on this one. It was a perfectly good cigar, the burn and draw were excellent, and I smoked it to the end, but the flavor wasn't in my wheelhouse particularly. I think it had a leathery flavor that isn't one I really lean toward. Some people like that, I prefer the sweeter and spicier flavors.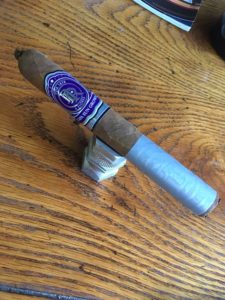 Finally, last night I smoked a PDR 1878 Capa Sun Grown Toro. This 6″ x 52 toro has an Ecuador Sun Grown wrapper, Dominican Criollo 98 and Dominican Corojo fillers and a Criollo 98 binder. Yeah, more Criollo 98. Funny enough, I found this to be very good tasting cigar! Perhaps the sweetness and creaminess of the Corojo and Ecuador balanced out the leather of the Criollo for me and made for a really pleasant smoke. Like the other cigars in the 1878 line, this is finished with a closed foot and a pigtail cap, but I still used the Screwpop Magpulse cutter to give it a nice, clean straight cut which gave a nice draw and plumes of sweet, creamy smoke. Part of me wanted to to just reach for a favorite "safe" cigar last night, but I figured I'd be adventurous, fortunately, I had a great smoke.
Remember the contest for the Illusione prize pack from Fox Cigars is going on until Wednesday. I fixed the date, originally it had last Wednesday's date, which was the date it was posted! Oops. I'll post a winner the morning of Wednesday, August 14. That's all for today, until the next time,
CigarCraig